Our Exhibits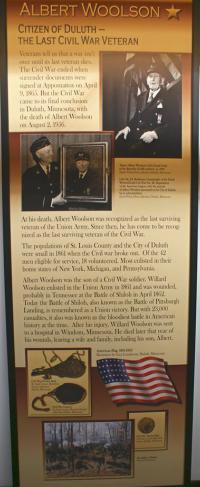 Albert Woolson Exhibit
The St. Louis County Historical Society is currently displaying a panel exhibit in honor of Albert Woolson, the last surviving veteran of the Union Army, at the Duluth International Airport.

Photo is courtesy of the David Wisted Post #28.
---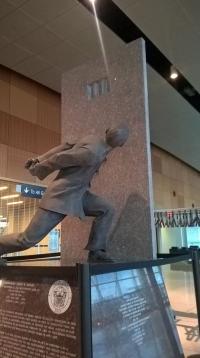 David Wheat Sculpture
Navy Commander David Wheat, who spent more than seven years as a prisoner of war in North Vietnam, is depicted in a statue in the James L. Oberstar Terminal at the Duluth International Airport that honors the 63 Northlanders who were POWs or missing in action in Vietnam.
After graduating from Duluth Central High School, Wheat attended the University of Minnesota-Duluth in 1963 and obtained a degree in industrial education. He joined the Navy in October 1963 and, after attending Officer Candidate School, was commissioned on Feb. 14, 1964.
On Oct. 17 1965, he was serving as a radar intercept officer on an RF-4B aircraft flying from the USS Independence. On that day, his unit had a mission to protect bombers that were attacking a railroad bridge northeast of Hanoi from enemy planes.
Wheat's aircraft was hit by ground fire as it was leaving the area after the bombing mission. He and the pilot ejected. The pilot was not recovered and is presumed dead. Wheat broke a bone in his leg but evaded capture for a few hours before he was discovered by members of a militia and taken prisoner.
He was a prisoner for about seven years and four months -- until Feb. 12, 1973. After being released, he returned to active duty and completed training to become a pilot. He served in various at-sea and shore commands before retiring at the rank of Commander in December 1984.
After his Navy service, he worked in real estate in California and northeastern Minnesota. He later worked for the Duluth School District, working with students in the construction technology class housed at the district's secondary vocational-technical center at Duluth Central.
---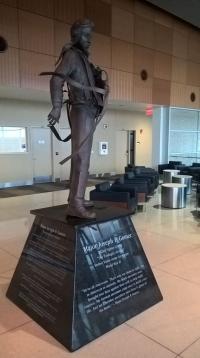 Joe Gomer Sculpture
Joseph Gomer, one of the last surviving members of the Tuskegee Airmen, is honored by a bronze statue in the James L. Oberstar Terminal of the Duluth International Airport. Gomer was born in Iowa Falls, Iowa in 1920. He attended and graduated at Ellsworth Community College. In 1942, he enlisted in the United States Army Air Corps and carried out more than 160 air missions until 1947, including during World War II. Soon after achieving the rank of major in 1964, he retired from the military, and spent more than 20 years working in the U.S. Forest Service.
As Gomer himself admitted, he fought the German enemy in the air, and fought racism from fellow Americans on the ground. But he served his country faithfully and proved an inspiration for many. In 1985, he received the Superior Services Award for his work with minorities and women. In 2004, Gomer was inducted into the Iowa Aviation Hall of Fame and was also awarded with a Doctorate of Humanities from the Ellsworth College. George W. Bush awarded the Tuskegee Airmen collectively, including Gomer, with a Congressional Gold Medal in 2007. He was also invited to several events by current USA president, President Barack Obama.
In 1949, he married Elizabeth Caperton, who died in 2012. The couple had two daughters. Gomer died on October 10, 2013, of cancer.
---
Salute to Servicewoman
St. Louis County Historical Society is currently displaying our Salute to Servicewomen exhibit at the Duluth International Airport.
Early in the 20th century, women's service corps began to be established. Over 35,000 women served in or with the Army, Navy, and Marines, and Coast Guard in World War I (1917-1918). They were nurses, stenographers, telephone operators, and food service/support personnel. Four hundred died, most in the influenza epidemic.
Women served in the largest numbers in United States history in World War II (1941-1945). Over 400,000 were WACS (Women's Army Corps), WAVES (Women Accepted for Voluntary Emergency Service), WASPS (Women AirForce Service Pilots), the Marine Corps Women's Reserve, and SPARS (Coast Guard Women's Reserve). The Public Health Service Cadet Nurse Corps trained women as nurses. Women served in the European and Pacific Theaters and on the homefront in vital, but noncombat, jobs. They were nurses, supply personnel, drivers, test pilots, artillery trainers, communications specialists, intelligence workers, clerks, cooks, storekeepers, photographers, and office administrators. After the war, they were mustered out. It was not until 1948 that women began to be given permanent status in the Armed Forces.
The Korean War (1950-1953) and the Vietnam War (1965-1975) brought many women into the service again. Most were nurses serving in in-country hospitals and mobile units. But this was a time of change. In 1967, the ceiling on the highest grade a woman could achieve was lifted and, in the 1970s and 1980s, Officer Training Corps (OTC) programs and service academies opened to women. Women entered the Reserves and the National Guard, were integrated into the regular branches of the service, and became officers in all branches. Over 41,000 women were deployed during Desert Storm and Desert Shield (1990-1991) where they served in noncombat zones.
Today, women are enlisted personnel and officers. Coming from many backgrounds, they represent the integrated Armed Forces. Women pilot and co-pilot planes, captain ships, command flight squadrons, are astronauts, and serve as tank mechanics, medics, and radio operators. Over 14% of the Armed Forces, 165,000 enlisted personnel and 35,000 officers, are women. Many have served tours of duty in Iran and Afghanistan. And in 2013, the most recent change took place when the ban on women serving in combat zones was lifted.
Text is from Salute to Servicewomen panel exhibit.
---
Generations of Service
The Veterans Memorial Hall (VMH) Program of the St. Louis County Historical Society has opened a new feature exhibit. Generations of Service illuminates 150 years of U.S. military history by bringing the stories and artifacts of local service members into focus--from the rare 1818 American flag donated by Civil War POW Robert W. Mars, who settled in Duluth after the Civil War, to the backpack and dog tags donated by Mark Hilleren, who served in Iraq. Visitors encounter history through the artifacts and stories of veterans connected to northeastern Minnesota.
Upon entering the exhibit, viewers will see one of the rarest of American flags, a twenty-star American flag from 1818. Only twenty such flags are known to exist. (This flag flew over the nation for one year; at the time, Thomas Jefferson and John Adams were still alive.) The flag was donated by the family of a local Civil War veteran.
Visitors will then see eight cases, each containing several items from a particular war. A Civil War bugle is on display, along with a section of an oak tree from the battlefield at Gettysburg with a bullet lodged in it. A uniform from the Spanish American war; a naval aviator helmet from World War I; a leather bomber jacket with from World War II; a yellow arrowhead-shaped patch sewn for service members in Korea; a hand grenade from Vietnam; a uniform from Desert Shield/Storm; and an MRE (meal ready to eat) from Iraq—these are only a few of the artifacts on display that tell the story of service members and their war experiences.
The exhibit is rounded out by several other displays:
- One considers the impact of war on the families on the home front. This section includes a reconstruction of the end of a mine tunnel or "drift," reflecting the profound impact that iron ore from the Iron Range had on the U.S. ability to arm for battle in World War I and World War II.
- Another addresses the history of local Ojibwe veterans and the manner in which they are honored at powwows and in veterans' museums.
- The unique experiences of POWs (prisoners of war) are considered; a flag from a local chapter of the American Ex-Prisoners of War is on display.
- A case with "war souvenirs" includes a World War I airplane-mounted German machine gun.
- Local recipients of the prestigious Medal of Honor are recognized.
- Counterfeit military medals confiscated by the FBI are also on display.
- Finally, a killed in action wallbears silent witness to the terrible local losses of war: it honors the memory of more than 1,100 St. Louis County service members who died in combat, from the Civil War to the present.
Visitors are able to watch a 2.5-minute interview with a veteran. Visitors are also able to enter the story of their service or that of a loved one (if the veteran is from or now lives in northeastern Minnesota) on the website while in the exhibit.
The St. Louis County Historical Society has collected and made available on the VMH website more than 6,000 veterans' oral histories. The Society also maintains the third largest collection of military artifacts in Minnesota and, since 1922, has been gathering military and home front archival materials. The Generations of Service exhibit features both artifacts and archives drawn from the Society's extensive collection.
Veterans Memorial Hall wishes to thank the exhibit sponsors: the Duluth Superior Area Community Foundation, Lake Superior College, Minnesota Historical Society, the Northland Vietnam Veterans Association, St. Louis County, United States Steel Foundation, Inc., the Wildey H. Mitchell Family Foundation, and the individual contributors who helped make it possible.
---