Events & Programs
Canceled - VMH 5K Fun Run/Walk
Veterans Memorial Hall is canceling the VMH 5K Fun Run/Walk scheduled for Saturday, May 16, due to the COVID-19 crisis.
If conditions in the community should improve allowing the event to be held safely, we may reschedule the VMH 5K Fun Run/Walk for autumn of 2020.
Registration fees are nonrefundable but will be valid and applied should the race be rescheduled.
Please direct questions to John Werner, Veterans Memorial Hall Advisory Committee Member at wernercsm@gmail.com.
Veterans Memorial Hall was established in 1910 and is a joint program between the St. Louis County Historical Society and military service veterans of northeastern Minnesota. Its mission is to gather, preserve, interpret and promote the rich and diverse human experiences of veterans, their families and communities. There are more than 7,500 veteran stories on the website www.vets-hall.org.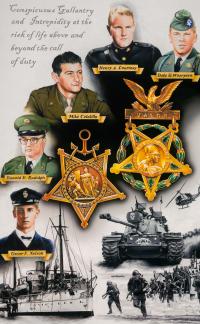 Forged Under Fire Print
Forged Under Fire
Giclee limited-edition print: $150.00 tax included, shipping $25.00
---
During our Veterans Remembrance Dinner on November 15, artist Tim Cortes unveiled his original artwork honoring the five Medal of Honor recipients: Oscar F. Nelson, Donald E. Rudolph, Michael Colalillo, Henry A. Courtney, Jr. and Dale E. Wayrynen.
Forged Under Fire is available for purchase as a print at St. Louis County Historical Society or by mailing in this ORDER FORM with payment. Proceeds will benefit the Veterans Memorial Hall program.