James Joseph Hubert
Era: World War II
Military Branch: Marines
Status: Featured Story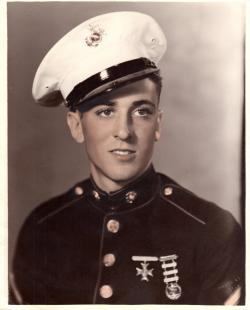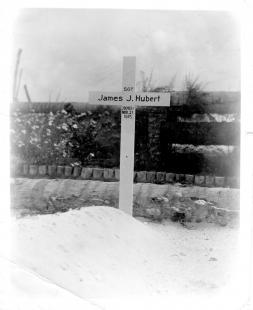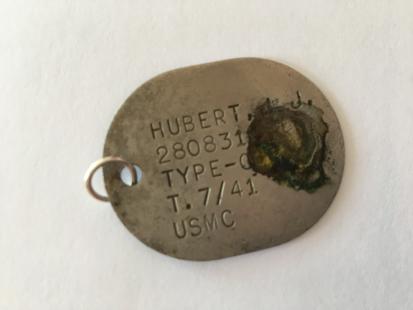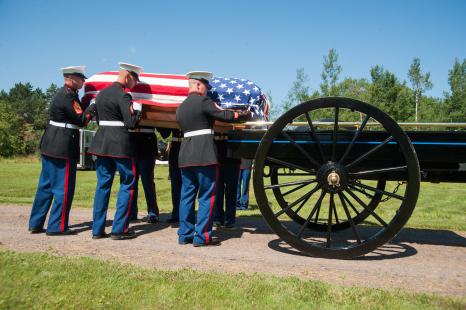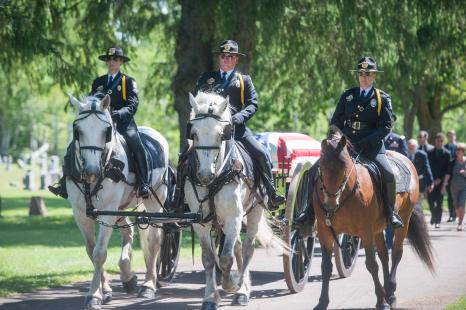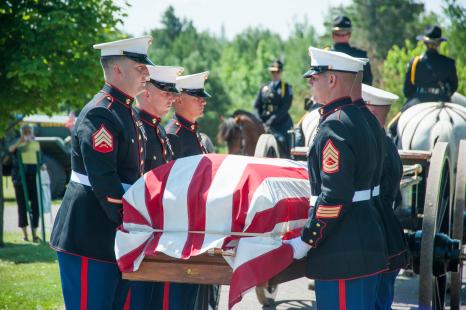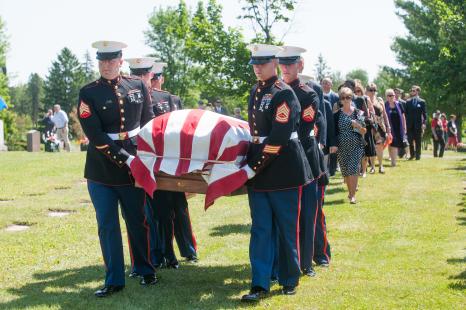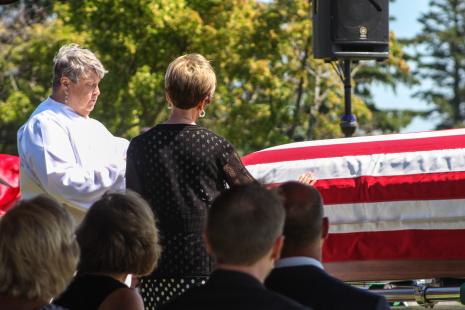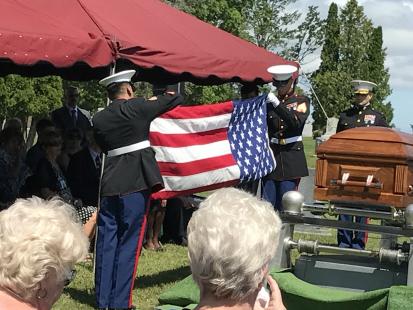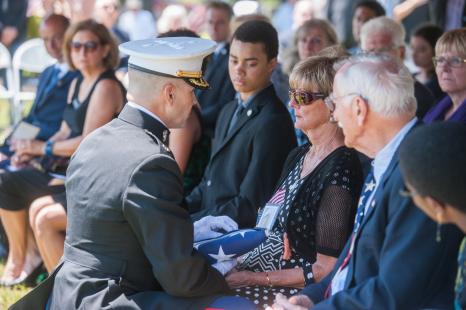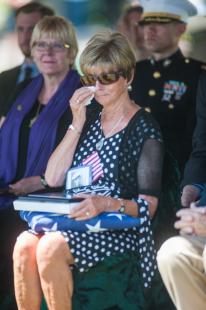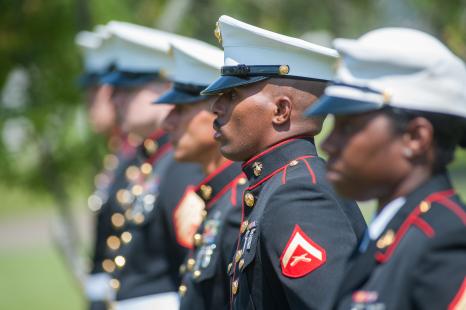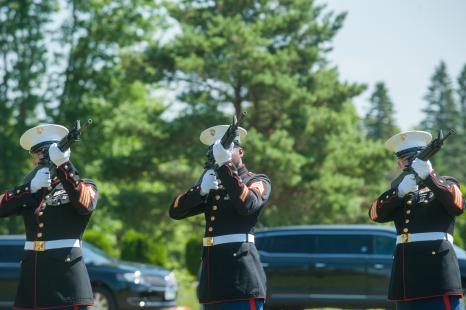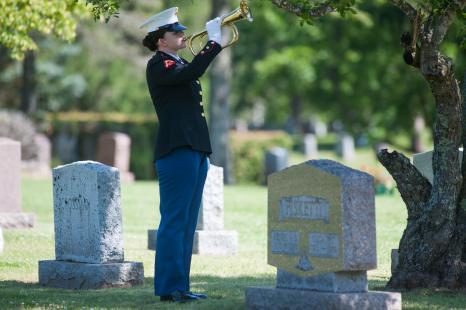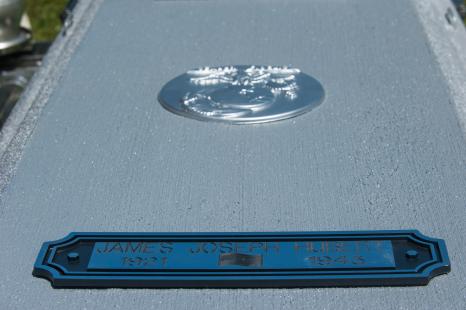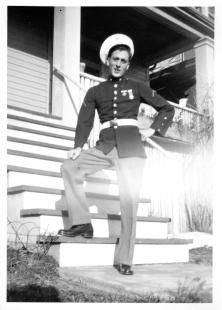 Marine Sergeant James Joseph Hubert
Born: August 12, 1921 – Died: November 21, 1943
Re-Internment: July 15, 2017
United States Marine Corps Sergeant James Joseph Hubert, killed in the Battle of Tarawa in WWII, has now been accounted for and was repatriated home to Duluth the summer of 2017.
Sgt. Hubert was born in Duluth, Minnesota to Mary Harriet (Arseneau) Hubert and Wallace Leon Hubert on August 12, 1920. He had a younger sister Elizabeth Jane Hubert, he attended school in Duluth and worked a variety of jobs, including the Northern Cold Storage Co., where his father was employed. He described himself as a 'laborer'.
He enlisted in the 50th Division, United States Navy Reserve, in Duluth on September 5, 1938 and was given the rank of Apprentice Seaman (AS). He served a two-week tour of active duty on board the USS Wilmington during July-August, 1939. The Wilmington was a Spanish American War era gunboat that was stationed on the Great Lakes for the purpose of training naval reservists. He was honorably discharged from the Navy Reserve in early 1940 to embark on an even more patriotic endeavor.
On the same day of his discharge from the Navy Reserve, he enlisted in the United States Marine Corps and was assigned the rank of Private (Pvt.). (His parents' consent was required for enlistment because he was under the age of 21). Pvt. Hubert completed his Marine Corps basic training at the Recruit Depot Detachment at San Diego, and qualified as a "Marksman" with the Springfield model 1903 .30-06 caliber rifle in early 1940.
In summer of 1940 he was assigned to Company H, 2nd Battalion, 8th Marines at Camp Elliot, San Diego, and remained with that unit during the remainder of his Marine Corps service. In September of 1940, Pvt. Hubert was promoted to Private First Class (PFC). In February 1941, he learned that he now had another sister Mary Katherine Hubert, nearly 20 years younger than himself. Later in 1941 (November), he was promoted to Corporal (Cpl.).
After the attack on Pearl Harbor, the United States and Japan were at war. In early 1942, Cpl. Hubert and his company embarked on the SS Matsonia for transport to the South Pacific. They crossed the Equator and arrived at Pago Pago, Tutuila, American Samoa on January 20, and were assigned to garrison duty. After several months of jungle warfare training, Cpl. Hubert and his company were designated to participate in the Battle of Guadalcanal in late 1942.
In early 1943, Cpl. Hubert and his company were withdrawn from Guadalcanal and transported to Wellington, New Zealand for a period of rest, refit and training in preparation for the invasion of Tarawa. In July he was promoted to Sergeant (Sgt.) and three months later, Sgt. Hubert extended the period of his enlistment for an additional two years and thus never returned home to meet his baby sister.
In the autumn of 1943, the U.S. Navy Pacific Fleet's Central Pacific Campaign targeted the Gilbert Islands (now known as the Republic of Kiribati). The Gilberts offered the Pacific Fleet a platform from which to launch assaults on the Marshall and Caroline Islands to advance the U.S. Navy's Central Pacific Campaign against the Empire of Japan. Considered essential to that campaign was the capture of Betio Island, located within Tarawa Atoll of the Gilberts, about 2,400 miles southwest of Hawaii. Betio Island was little more than a sand bar just large enough to support a small military airfield, and thus the strategic objective.
The Battle of Tarawa took place during the period of November 20-23, 1943. Primary responsibility for the assault fell to the Second Marine Division, which was supported by a naval task force comprised of 143 ships including carriers, battleships and transports. Sgt. Hubert's unit H Company was transported from their training bases in New Zealand to Tarawa on board the USS Haywood, APA-6, to take part in the operation code named GALVANIC.
It was the first time in World War II that the United States faced serious Japanese opposition to an amphibious landing. Tarawa was heavily defended. The Japanese had used more than 1,200 Korean laborers to fortify the island for more than a year prior to the invasion. The Japanese Army and Navy assigned more than 3,700 combat and construction personnel to the island, including more than 2,600 first rate combat troops.
Sgt. Hubert and the men of Company H were part of the first day's invasion. At about 09:00, after a period of intense naval and air bombardment, the Marines assaulted three primary beachheads on the north side of Betio Island. Many of the unarmored plywood landing craft became hung up on the coral reefs at the edge of the island lagoon, about 500 yards from the shore. Many Marines abandoned their landing craft, or were discharged prematurely, and attempted to wade ashore, only to become casualties long before reaching the beach.
The specific circumstances of Sgt. Hubert's death are not known. Along with other members of his Company H, Sgt. Hubert reached the shores of Betio Island (Red Beach #3) on November 20, and probably spent that night anticipating Japanese counter attacks that did not materialize. Three different documents list Sgt. Hubert as Killed-In-Action (KIA) on November 21. His USMC Casualty Card states his cause of death as a gunshot wound to the chest, and notes that Sgt. Hubert was "buried in Division Cemetery", of which there were several dozen on Tarawa. His remains were not found in any of the known locations; several locations had gone missing with the passage of time.
Following the war, the United States began the task of returning its war dead from all theaters of war. In March 1946, a detachment from 604th Quartermaster Graves Registration Company began recovery operations that lasted until late May. Fewer than half of the known casualties were found. Those remains were moved to a central cemetery; Sgt. Hubert was not among those found. By 1949, all known remains were exhumed from Betio Island and reinterred in the National Memorial Cemetery of the Pacific (aka The Punchbowl), in Honolulu, Hawaii. In February that year, a Board of Review determined that Sgt. James J. Hubert was KIA at Tarawa and, although reported as buried in the Division Cemetery, his remains were not found. The Board of Review therefore "resolved that subject decedent be declared to be Non-Recoverable." As a result, Sgt. Hubert's name is etched on one of the many walls in the Punchbowl dedicated to those lost in battle who are still missing.
In 2011, remains of a US Marine killed on Tarawa in 1943 were found and identified. Based upon this identification and historical research, History Flight (a non-governmental organization-NGO) located witnesses who knew the exact recovery location of the recently found Marine. This area then became the focus of an intense History Flight investigation. In late June 2015, Mr. Mark Noah of History Flight notified the Defense POW/MIA (DPAA) that his group had unearthed an unmarked burial trench on Betio Island. This was Cemetery #27 (aka 'The Lost Cemetery'). This cemetery had a monument erected with a plaque that read "Near this site the officers and men of the 2nd US Marine Division whose names are inscribed here…" was followed by the line "And Sixteen Unknowns". Sgt. Hubert was one of those 'Unknowns'. In July 2015, History Flight turned over custody of the remains of 35 Marines to a DPAA Laboratory representative, who escorted the remains back to Hawaii.
Sgt. Hubert's remains were part of that group of Marines. His still-legible dog tag (ID tag) was with him. There were nearly complete dental remains, as well as strong forensic anthropologic evidence present. Most convincing was the DNA evidence. Samples taken from his sister, his nephew and his cousin provided the required proof of identity. The DPAA concluded in May 2016 that the remains found were indeed those of Sgt. James Joseph Hubert.
In early September 2016, the family of Sgt. Hubert received an extensive and detailed briefing from a representative of DPAA. The United States Marine Corps will return his remains to Duluth during summer 2017. He will receive a formal military funeral and will be buried in the Soldier's Rest section of Calvary Cemetery, nearby his mother.
Nearly 79 years after he started his military career in the US Navy Reserve, Sgt. James Joseph Hubert will finally return home.
Re-Internment with Full Military Honors:
• July 15, 2017, 11am
• Soldier's Rest at Calvary Cemetery, Duluth, MN
• Dougherty Funeral Home
Source: Family of James Joseph Hubert
Additional Information:
* Website: James Joseph Hubert | Home - James Joseph Hubert
* Scholarship: James J. Hubert Memorial Scholarship Fund (dsacommunityfoundation.org)
• History Flight - http://historyflight.com/nw/
• DPAA Website - http://www.dpaa.mil/
• Tarawa Website - https://en.wikipedia.org/wiki/Battle_of_Tarawa
• History Flight Video – sample of search efforts by History Flight on Tarawa: https://www.bing.com/videos/search?q=two+mari...
---
"We Never Forgot Him:" USMC SGT James Joseph Hubert's Long Journey Home | Official Trailer (2021) - YouTube
Albert J. Amatuzio Research Center | Veterans Memorial Hall (vets-hall.org)
James Joseph Hubert in American Battle Monuments Commission - Fold3
SGT James Joseph Hubert (1921-1943) - Find a Grave Memorial
Fallen Duluth WWII Hero Honored With Exhibit, Documentary - Fox21Online