Wilfred Joseph Fournier
Era: World War II
Military Branch: Army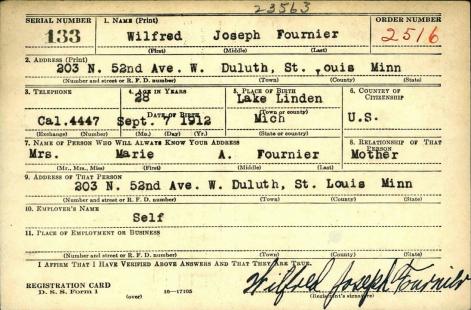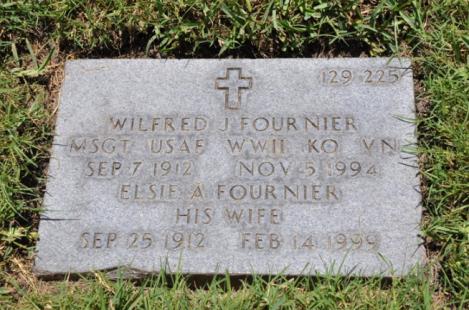 FOURNIER, Wilfred Joseph
Wilfred "Fred" Joseph Fournier was born on September 7th 1912 to Joseph Zephyr & Marie Adrienne [Laverdiere] Fournier in Lake Linden, Michigan. The family moved to Duluth, Minnesota when Wilfred was young.
Mr. Fournier served in the U.S. Army Air Corps and the U.S. Air Force during World War II, the Korean War and in Vietnam.
His rank on March 6th 1944 during WWII was Staff Sergeant (SSGT).
He married Elsie A. [Anderson].
SGT Fournier was a Master Sergeant (MSGT) when he left the service on May 31st 1966.
Mr. Fournier died on November 5th 1994 in Davenport, Florida at 82 years of age. He is buried at Florida National Cemetery in Bushnell, Florida.
Source(s):
---
Albert J. Amatuzio Research Center | Veterans Memorial Hall (vets-hall.org)
Page 1 WWII Draft Registration Cards - Fold3
Wilfred Joseph Fournier (1912-1994) - Find a Grave Memorial
U.S., Veterans' Gravesites, ca.1775-2019 - Ancestry.com
---
Duluth News Tribune, June 17, 2008, obituary of Russell Fournier
Photo title: "Eleven Mothers Are Awarded Pins by Duluth Group"
Caption: "Eleven mothers who have between four and six sons or daughters in the armed services were presented pins by the Duluth Emblem of Honor association last week at a program in the West End American Legion Hall.
---