Events & Programs
Rotary Club of Cloquet's March for Veterans Celebration on March 7, 2020
Veterans Memorial Hall, a program of the St. Louis County Historical Society, is pleased to promote the Rotary Club of Cloquet's March for Veterans Celebration March 7th, 2020 at the AAD Shriners Building in Hermantown. The purpose of this event is to raise funds, the majority of which will be donated to our area Veterans, focused on helping them adjust, cope and heal after returning home from active duty. The remaining funds will go towards the Cloquet Rotary Club and its mission.
Festivities include a 5:30p Social Hour, 6:30p Dinner followed with Entertainment at 7:30p featuring a Nationally Recognized Event "LETTERS From Home: Reviving Patriotism - The Patriot Show." LETTERS FROM HOME's mission is to travel the world, honoring our veterans, active military heroes and their families by Reviving Patriotism and Uniting the Nation through music.
Chris Magnusson, Charter Member of NEMN Women Veterans will be the speaker. Chris has served in the United States Marine Corps as a Special Intelligence Communications Center Operator, had been stationed in a variety of units that included Parris Island, Company K Marine Support Battalion, 2nd Radio Battalion and Company F Marine Support Battalion. In 1991, after six years, she was honorably discharged as a Sergeant (E-5) and returned to her home in Hibbing as a veteran.
Tickets ($30 each) are on sale now through February 27th by calling Reliable Insurance Agency at (218) 879-4663. This event will be a wonderful way for everyone in our communities to show their support to our local heroes. Please consider joining us with your support. For more information visit CloquetRotary.org.
Contact:
Julie Rothmeier
Rotary Club of Cloquet
615 Sunnyside Drive
Cloquet, MN 55720
(218) 428-4151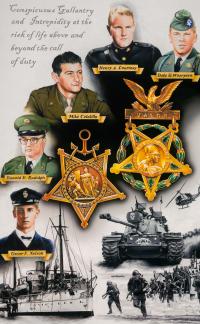 Forged Under Fire Print
Forged Under Fire
Giclee limited-edition print: $150.00 tax included, shipping $25.00
---
During our Veterans Remembrance Dinner on November 15, artist Tim Cortes unveiled his original artwork honoring the five Medal of Honor recipients: Oscar F. Nelson, Donald E. Rudolph, Michael Colalillo, Henry A. Courtney, Jr. and Dale E. Wayrynen.
Forged Under Fire is available for purchase as a print at St. Louis County Historical Society or by mailing in this ORDER FORM with payment. Proceeds will benefit the Veterans Memorial Hall program.